Easter Sunday, also called Resurrection Sunday, is a Christian holiday celebrating the resurrection of Christ. In the UK, it is common to organize Easter egg hunts and get together for lunch with friends and family.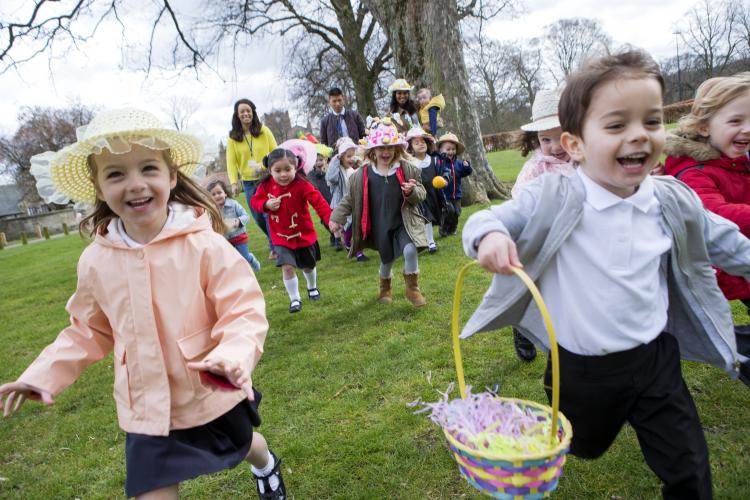 Is Easter Sunday a Bank Holiday?
Although Easter Sunday is not formally defined as a bank holiday in the United Kingdom, it is a day off for most people because it falls on a Sunday. In the UK, it is common to use the term bank holiday to refer to all public holidays.
Two of the other days of the Holy Week, Good Friday and Easter Monday, are bank holidays in all or most of the UK. However, Palm Sunday, Maundy Thursday, and Holy Saturday are not bank holidays.
Are Shops Open on Easter Sunday?
In England and Wales, opening hours are limited on Easter Day. Shops over 280 square meters are closed, including most supermarkets. Smaller stores are allowed to open, but may not always do so. In Scotland, there are no restrictions, and retailers are allowed to open. Nearly all other non-essential businesses and organizations in the UK are closed on Easter Sunday.
Easter Bus Times
Public transport systems may run on a different schedule during the Easter week. Sunday timetables often apply on bank holidays. In some areas in the UK, there may be no public transport at all on Easter Sunday.
Egg Hunts and Easter Bunny
There are many old non-religious traditions linked to Easter Sunday in the UK, just like in most other western countries, such as the USA, Canada, and Australia. People give each other chocolate Easter eggs and Easter bunnies or hollow plastic or cardboard eggs filled with candy. Egg hunts, a traditional Easter game where children try to find hidden Easter eggs, take place all over the UK. According to popular legend, the Easter bunny hides the eggs.
In some parts of the United Kingdom, people organize egg rolls, a game where they roll hard-boiled eggs down slopes. In another variation of the game, people knock hard-boiled eggs against other peoples' eggs. The winner is the person whose egg remains whole. After the game, the eggs are eaten. In some parts of Scotland, fondant-filled chocolate eggs about the size of a hen's egg are covered in batter and deep-fried.
Easter Sunday Roast and Daffodils
In the UK, it is common to invite family and friends for Easter Sunday lunch, and the traditional Easter Sunday meal is a lamb roast. Common decorations are dyed or painted eggs, little yellow chicks, bunnies, and spring flowers, such as daffodils, white lilies, and tulips. The colors yellow or gold are usually associated with Easter, as these are the colors the Church of England uses for the Easter Sunday celebrations.
Why Do We Have Easter Eggs?
One theory is that eggs are associated with Easter because it occurs in the spring. In pre-Christian times, there were pagan spring festivals, and eggs symbolized new life and new beginnings. However, dyed eggs are also part of the Christian Easter story.
Who Celebrates Easter in the UK?
Easter Sunday is one of the biggest celebrations of Christianity. According to the Pew Research Center, between 46% and 59% of the British population considered themselves Christian in 2014. However, a lot of people who do not see themselves as Christian also take part in Egg hunts and family traditions. In fact, UK chocolate makers have recently started producing halal Easter eggs, indicating that also people of other faiths enjoy Easter treats.
Why Is It Called Easter?
Nobody knows for sure where the English name Easter comes from. The most common explanation is that it is derived from the Anglo-Saxon goddess Eostre. She was associated with spring and fertility and was celebrated around the vernal equinox. This theory was first introduced in the late seventh century by Bede ("The Venerable"), a historian from Anglo-Saxon England. In most other languages, the name is derived from the Hebrew word Pesach, the Jewish holiday Passover.
Why Is Easter on Different Dates Every Year?
The date for Easter Sunday is usually the first Sunday after the first Full Moon on or after the March equinox.
In the period spanning from 1753 to 2400 in the Gregorian calendar, Easter falls on a Sunday between March 22 and April 25.
The Orthodox Easter date also varies every year in the Julian calendar, which is still used by many Orthodox Christian churches.